Welcome to the Monster Tale Wiki
Monster Tale is a Platforming Adventure/Pet simulation game released for the Nintendo DS
Monster Tale starts as Ellie awakens suddenly in a new world, the Monster World. Ellie quickly finds an upgrade to her bracelet that allows her to shoot projectiles. Soon after, Ellie finds an egg which contains a monster named Chomp. Chomp soon hatches and joins Ellie on her journey throughout the Monster World. Together, they stop the Kid-Kings to restore control of the Monster World back to the Monsters.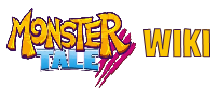 <Discussions />
Ad blocker interference detected!
Wikia is a free-to-use site that makes money from advertising. We have a modified experience for viewers using ad blockers

Wikia is not accessible if you've made further modifications. Remove the custom ad blocker rule(s) and the page will load as expected.